I have a piece in a The Refugee Reading Room at
Space 1026
organized by the incomparable
Amze Emmons
.
February 4th – 25th, 2011
I mailed off 125 free multiples. Get them while they last.
I will post about my piece after the opening.
Here's a peek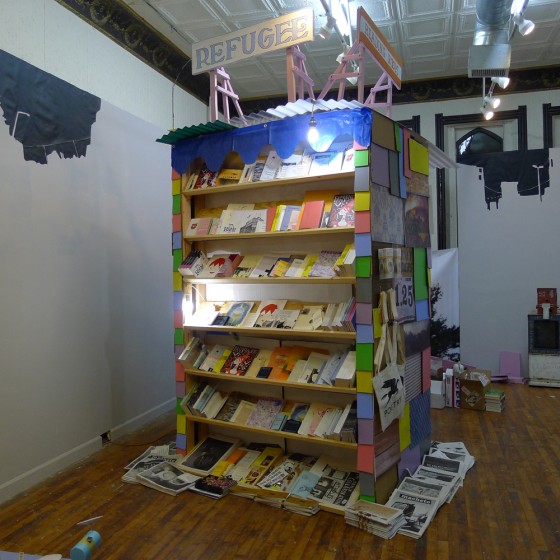 show info below.
Space 1026
1026 arch street 2nd floor,
philadelphia, PA 19107
When
Opening - please come if you are able
Friday, February 4th, 7-10 PM
February 4th – 25th, 2011
<--more->
In response to an invitation to exhibit at Space 1026, I proposed an exhibition in which a post utopian installation would serve as a distribution point for free publications by a host of other artists, designers, cartoonists and illustrators. After months of planning that project is about to become real.
It is my hope that this exhibition will transform the gallery space, sparking new relationships between creators and audience, and that this will lead to a range of interesting interdisciplinary connections within an experimental gift economy. This arrangement is obviously informed by my own aesthetic, but I think the conceptual connections between print, community, and utopian experiments are made stronger when put in conversation with architectural phenomena and notions of displacement.
This installation will feature works by the following contributors:
Kjellgren Alkire
Art Codex
Pat Aulisio
Mike Bauer
Diana Behl
Book Bombs -- Mary Tasillo and Michelle Wilson
Jamison Brosseau
Ellie Brown
Natalie Campbell
Tova Carlin
Chain Magazine
Cece Cole
CA Conrad
Ryan Dodgson
Josh Doster
Angela Earley
Faesthetic Magazine
Jedd Flanscha
Casey Grabowski
Geoff Hargadon
Lauren Haldeman
Kay Healy
John Hitchcock
Holly Holly Hobby Hobby
Matt Hopson-Walker
Chad Kouri
Delia Kovac
Andy Kozlowski
Michelle Levy
Max Liboiron
Lumpen Magazine
The Machete Group
Margin Detail
Kembrew McLeod
Megawords Magazine
Andrew Moeller
The Moving Crew
N55
Matt Neff
Heidi Nelson
Never Nothing
Scott Nobles
Notice Notice
Michael Perrone
Sarah Nichole Phillips
Greg Pizzoli
Poetry Magazine
The Post Family
Proximity Magazine
Ian Sampson
Carrie Scanga
Jonthan Skinner/EcoPoetics
David Tallitsch
Danielle Tegeder
Temporary Services
RL Tillman
Breanne Trammell
Pointed Press-- Tricia Treacy & Katie Smith
Frank Sherlock
Eli VandenBerg
Jenna Weiss
Brian Wiggins
Jing Yu
Match Zimmerman
And many more
Audio Soundscape composed by Scott Sherk
In her seminal book of essays,
The Poethical Wager
, Joan Retallack builds a complexly beautiful argument that in tumultuous times one should model the world in which they wish to live. In some small way this project aspires to be such a model.